Electronic appliances are being sold like hotcakes. People ignore hyped prices and continue buying as they need them. AC is among the most sold electronic appliances. Summers can't be lived without AC in rooms, offices, lounges, or anywhere people stay longer.  You can't afford electricity bills if you are using AC in the house or office. Continue reading on How Many Solar Panels To Run 5 Ton AC Unit?
It's rather simple to calculate how many solar panels are required to power typical household appliances. The reason is that they draw a steady current, so you can match the wattage of an appliance to the output of a solar panel.
Some appliances, such as refrigerators, and air conditioners, are more complicated since they contain compressors and motors. Hence, power usage varies and needs to be averaged.
Air Conditioner: How many solar panels are needed?
As weather conditions worsen due to rising global warming and rising levels of air pollution, an increasing number of individuals are installing air conditioners. As a result, air conditioners are more widespread in homes, schools, workplaces, and other commercial establishments.
Not only that, but ACs are utilized 24 hours a day, seven days a week in clinics, cinemas, and other places. Due to the high wattage of air conditioners, increased use has resulted in high electricity bills, and consumers are searching for alternatives to electricity. Your AC will operate on both, OFF-Grid and On-Grid (3kW to 10kW) Solar systems.
| | |
| --- | --- |
| AC Cooling Capacity | Solar Panel (Watts) |
| 1 Ton AC | 1200 Watts |
| 2 Ton AC | 2400 Watts |
| 3 Ton AC | 3600 Watts |
| 4 Ton AC | 4800 Watts |
| 5 Ton AC | 6000 Watts |
As shown in the table above, 6k watts of solar panels are required to run 5 ton AC, if AC works for 4 hours per day. When it is not in the sunshine, a 500Ah battery is enough per ton. Hence, for 5 ton AC, it would be a 2500Ah battery storage requirement. In the sunlight, a 200Ah battery will be enough for your AC.
The 5 ton AC Unit
If you bought yourself a 5 ton AC unit and are curious about how many solar panels to run 5 ton AC unit, then you are at the right page.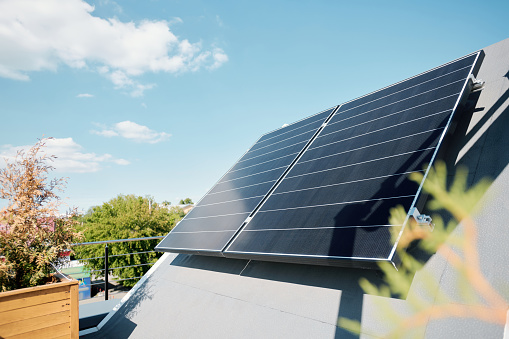 When it's very hot, which is usually 4 hours each side at noon in most geographic places, AC is a must. It sounds interesting because, when the sun's energy is at its peak, solar panel output watts are also at their peak. A tonne of AC cooling capacity requires 1200W of electrical power, so four hours of operation would need 4800Wh. For 5 ton AC, 24000Wh energy is used. If you use a 300-watt solar panel it will generate 1200Wh per day. For a 5 ton AC, you need at least 20 solar panels.
The energy expenditure of a 5 ton AC is too high but it does not give you that much cooling. It's very hectic to compete with the demands of 5 ton AC like at night, it needs 500Ah of battery capacity to run for an hour. This is not affordable if you earn sufficient money. At day, as per the battery capacity requirement of 200Ah, is considerable.
Conclusion
Summers are good as long as you're having AC. Running AC on electricity is not affordable.  If you want to enjoy the cooling of an AC, you should look for an alternative. Solar panels are the best-recommended solution to your problem. All the related information to the subject is shared for your benefit. The comment section is allotted to you to add extra information on the topic.
Also Read:
What Is Amazon Digital Service Charge And How Do I Cancel These Charge