Are you searching for "Supplier Relationship Management Examples"? Then you are at the right place. In this article, you will receive all information regarding Supplier Relationship Management, its stages, and examples. So, keep reading…
Reliable suppliers are the backbone of the business. To remain competitive, organizations need to pay particular attention to maintaining effective and cost-effective partnerships with counterparties. The only way to ensure that suppliers and contractors perform effectively is to evaluate them and their work continually. It's not an easy task, but it gets easier with SRM. This system helps users to keep suppliers at their fingertips by monitoring their performance and identifying unsatisfactory performance.
Before discussing Supplier Relationship Management Examples in detail, let's explain an overview of SRM to understand the concept better.
Supplier Relationship Management – An Overview
Surprisingly, SRM is over 35 years old! And it is still relevant for the majority of enterprises related to procurement. The author of this idea is Peter Kralich, a consultant at McKinsey. He did not even imagine how relevant his "brainchild" would be, not only in 1983 but also in the distant 2020.
The essence of Kralich's proposal was as follows:
Customers should always choose a proactive purchasing management model.
It is necessary to study and understand the impact of certain product groups on the risks and profitability of the company.
Based on the most relevant statistics, it is necessary to develop supply management strategies that will minimize risks and, at the same time, increase profitability. This is the basic concept of SRM.
Strive to maximize efficiency by analyzing every decision and every interaction with partners.
As the years go by, supply-side needs remain important. Modern companies also need regular and operational logistics. And the SRM system helps to significantly simplify cooperation with suppliers, to organize a complete and scalable supply cycle. At the same time, it is possible to reduce labor, time, and financial costs.
Most people think that Customer Relationship Management (CRM) and Supplier Relationship Management (SRM) are the same concepts and often replace one with the other. However, it is essential to remember that these are two completely different directions. Even though their work within the same business environment can sometimes overlap.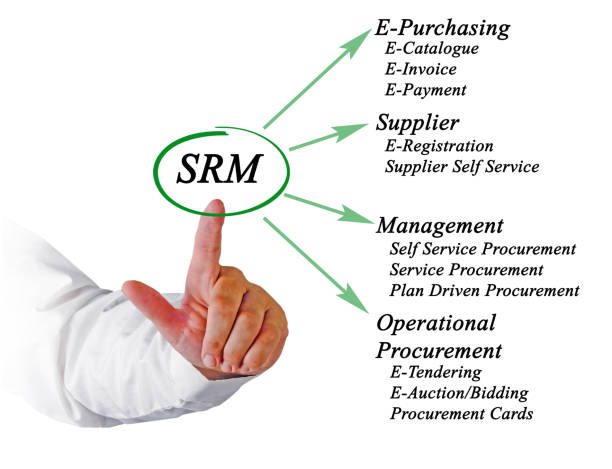 Stages of SRM
SRM implementation usually takes place in three stages:
Segmentation of suppliers. It can be carried out in an automated mode based on the calculation of personal criteria, based on the results of the collection and classification of the most available information. All supplier information is visualized so that employees can quickly and easily find the data they need. An important point is the selection of key suppliers, on the relationship with which the profitability and risks of the enterprise depend.
Development of a strategy for interaction with suppliers. It is not worth spending significant resources to manage relationships with "transactional" suppliers who supply unimportant and easily replaceable goods. But you should pay maximum attention to strategic partners supplying materials and components important for production, especially if the choice among such suppliers is small.
Implementation of a supplier relationship strategy. Strategic partners require special care and maximum attention. Suppliers and customers of this level must be aware of each other's plans. This may even include providing confidential business information to the partner so that they can prepare and plan in line with their customer's long-term strategy.
Supplier Relationship Management Examples
After a precise overview, let's take a look at some examples of supplier relationship management that will explain its importance for your business:
Example 1: Consider the differences
In the context of globalization, it is becoming a common practice to cooperate with sellers scattered around the world. However, each city, region, and country has different rules, laws, and approaches. If any of your suppliers are located in a different country, what will you do? In this condition, you and your SRM will consider the nuances of other cultures when interacting with those suppliers. This includes respecting the time zone difference. With the help of an SRM system, you can define a time range for communication that is convenient for both parties.
Example 2: Clear Guidelines for Managing Suppliers
Can your business make progress without clear guidelines? Obviously NO! The same rule is applied to manage suppliers.
Having a documented process will provide your team with consistent and clear guidelines for managing suppliers. This process can include flowcharts, model instructions, company and supplier policies, and agreements. It is important that all steps are strictly followed, and that authorized employees sign the appropriate documents upon completion of a step.
Example 3: Risk Assessment
Assessment is a necessary factor, especially when you are running a complex supply chain. For example, if you don't ask suppliers for references and proof of work experience. In this case, the chances of scams are very high.
Ask how many years the company has been on the market, what its specialization is, how it overcomes the crisis, etc. A supplier profile assessment for risks – along with a well-thought-out cooperation agreement – will minimize risks and help avoid potential disruptions for your company.
Example 4: Detail agreements with suppliers
If you regularly purchase something from a specific supplier, you sign a cooperation agreement with them – in addition to the supply agreement itself. Is it possible to have a long business relationship without an agreement? No!
During the 2nd stage of Supplier Relationship Management Implementation, you need to discuss a detailed agreement. It will indicate what both parties expect from cooperation and, of course, indicate the descriptions of goods and services, price, terms of delivery and payment, method of exchange of notifications, etc. Depending on the specific circumstances, it can be a simplified or more complex document. Having such an agreement with a supplier will reduce the likelihood of misunderstandings and disputes.
Example 5: Distinguish between price and value
Price is what you pay; value is what you get. Buying a quality service or product at an adequate price is the key to efficiency. If you have financial flexibility, you need to take advantage of this. You can buy in bulk at a better price.
True, this will mean an increase in inventory on the balance sheet or the need for an earlier payment to receive a large discount. Sometimes it is better to pay a little more if the provider provides better service. It will pay off by itself because in this case, he "takes on" more, and you do not have to spend time managing interactions with him. A bulk purchase will build a strong relationship with the supplier, and the chances are very high that you will get more discount the next time.
Example 6: Communication
Communication is key! And this rule is also applied to building a relationship with a supplier. It is important to establish and maintain regular communication with all suppliers. They should always have up-to-date information about your strategy and plans. Then they will understand how they fit into this strategy and how they can help achieve your goals and benefit from it themselves. Let them know if you feel that a particular vendor's job or approach is not what you want. The more stable and deep the communication is, the more effective the cooperation itself will be. Also, having adequate tools is essential, for example, many businesses rely on vendor contract management software and collaboration between their legal department and procurement teams.
Example 7: On-time Payments
In order not to lose suppliers, it is important to meet payment obligations on time. This demonstrates that you are a reliable customer and that it is easy to work with you. If, for some reason, you cannot pay for the delivery on the agreed date, be sure to notify the supplier as early as possible and state the date when he can expect payment.
Example 8: Use technology
Effective work with suppliers is possible when you have information about them at your fingertips – in one place. This requires investing in supplier relationship management software. Then, you can go further and invest in more advanced purchase order management software. It can be used to create, process, and track purchase orders for various vendors. Some software solutions allow you to integrate all of these functions into one platform.
Example 9: Partner with suppliers
The partnership should be based not only on the transaction itself – "one sold, the other bought", but also on mutual trust and loyalty. Suppliers should feel like they are an important part of your business. Keep them informed about current processes, inform them about new product releases and promotions, and at the same time listen to their feedback.
Let's Sum Up
The correct Strategic Supplier Relationship Management (SRM) tactic is like art with a fair amount of creativity. Our Supplier Relationship Management Examples showed that it is a continuous search for opportunities for innovation, either in product development or in process improvement.
If you like the blog post, share your experience in the comment box. Visit our blog for more articles.