What Are Bollards: A Complete Guide
A bollard is a short vertical post that is designed to control or prevent traffic from entering or leaving a street or road. With many businesses worried about safety and security, bollards are becoming a more common feature in parking lots or on roadsides. This blog will look at what bollards are and how they are used.
What Are Bollards?
Bollards are an important part of any business's security. Installing these in front of buildings and businesses can help to stop any unwanted vehicles from getting too close to your property.
Bollards are a great way to protect your property from vehicles by creating a physical barrier. While it might be tempting to just pile a bunch of rocks or cinder blocks in front of your building, this is not a very smart option. Not only do these items not offer the same level of protection, but they can also be easily moved and circumvented by a determined vehicle. This is why a good bollard installation is so important. If done properly, a bollard installation can not only deter an intruder, but it can also keep a vehicle from entering your property in the future.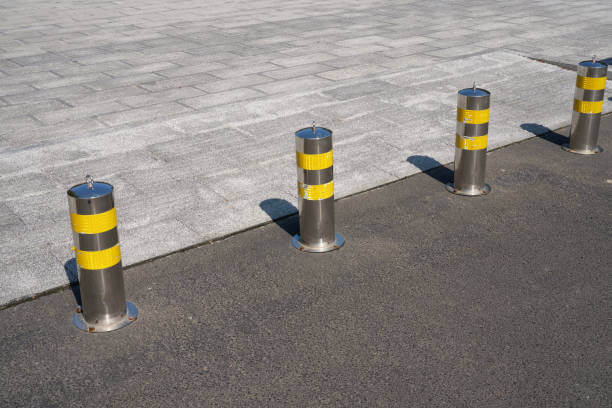 Here we will look at different types of Bollards Perth and what they are used for.
What are bollards for or what are bollards used for?
Bollards are used to protect a specific area or building from unwanted intrusion. They can be used to defend against vehicle attacks, or even injure pedestrians. There are various types of bollards with different purposes and applications. Some of them are:
Automatic Bollards
Flexible Plastic Bollards
Decorative Bollards
Surface Mounted Bollards
Embedded Bollards
Rebounding Bollards
Retractable / Removable Bollards
Bollards can be made of plastic, steel, or other materials, depending on the weight they need to support. You can use these bollards for:
Traffic Denial
Drive-Thru Lanes
Parking Lot Protection
Factories and Warehouses
How Tall Are Bollards
When you are looking for bollards you will see all kinds of different heights and sizes. The most common heights bollards are: 3 feet, 4 feet, 5 feet, 6 feet, and 8 feet. The most common height is three feet. So, that's considered the average!
Today, the top of the line is the 48″ bollard. Being taller than the average person, this height keeps cars from hitting it. If you're looking for a smaller bollard, the 30″ bollard is what you're looking for. The 30″ bollard is typically used to line walkways and mark off certain areas. The average height, three feet, is what is used on the majority of streets and areas.
What Are Bollards In Construction
Bollards are one of the most vital features of a construction site. They are primarily used to protect pedestrians and vehicles from accidents that may occur on a construction site. They are also known as traffic bollards, safety bollards, or construction bollards. They are made of concrete and steel and used to protect pedestrians and vehicles from vehicles and other vehicles.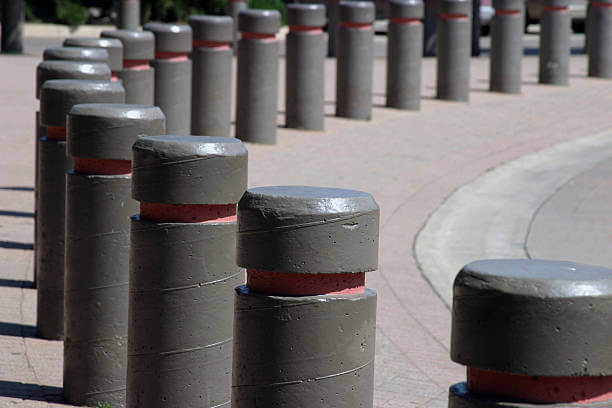 How To Install Bollards/ How To Install Bollards In Concrete?
Use the following steps for installing bollards:
Drill a hole
Place the bollards in the hole
Level the bollards
Fill the holes with concrete
Fill the bollards with concrete
For more details, watch this video:
How Much Do Bollards Cost?
Bollards are made from various materials, but the most common are concrete, cast iron and steel. They can come in a variety of shapes and sizes, and are often made to match the rest of the architecture. This thing affects their price. Here you must know that Bollards are not cheap, though. Depending on the material, bollards can cost anywhere from $100 to $2,000.
Where to buy bollards?
In today's digital world, everything is available in online stores. And bollards are also available in various online stores and physical stores as well. But keep in mind to buy reliable and strong bollards from authentic dealers.
Let's Sum Up
Bollards are a great way to control the movement of traffic and pedestrians. They're used as a way to protect buildings, plants, or other objects. If you're in need of some bollards for your business, contact Fence Wright today. They can help you find the perfect bollards for your needs.
Also Read:
Is Buying A Used Audi A Good Idea
What Is The Best Self Defence For A Woman
7 Benefits Of Field Service Management Software