Suppose you're working on cars and suddenly get some gasoline on your hands when you are filling up. Then you have to remove the substance fully from your clothes and skin. However, if you don't wash your hands immediately, it is harmful to your skin which may cause irritation, burns, and many other skin issues.
Don't worry! We are here to share how to get gas smell off hands. Plus, we'll also share the incredible tips and tricks which will help you to get rid of the unpleasant gasoline smell.
Sometimes, you can't feel the gasoline smell on your hands, but there is a chance someone can smell when the substance retains a thick layer of oil on your hands, making the smell hard to remove. What an irritating thing to face ever!
Is Gasoline Smell Harmful to Human Health?
Many people don't know that the smell of gasoline is harmful to human health and how to get rid of gas smell off hands because it contains a toxic chemical that causes many negative impacts on the body when it touches the skin such as, inflammation, burns, irritations, peeling and also eye damage.
Even if you're only breathing gasoline, it can be harmful. Additionally, if you smell it on your hands, there's a clear possibility that gas particles are still on your skin. So be careful and wash your hands properly.
How To Get Gas Smell Off Hands – 5 Simple Ways
As we mentioned before, the gasoline smell is harmful to your health. Most people don't know that how to take gas smell off hands; therefore, we will share the easy and simple ways which will help you to get rid of it in the right way. Here are the 5 useful tips to get off the smell from your hands effectively and quickly.
White Vinegar
As you know, that white vinegar has many amazing cleaning properties that break the bonds in gasoline and help to get rid of the unpleasant smell of gasoline from your hands.
How to use:
Pour some vinegar on your hands which are enough for your palms and fingertips.
Massage for 30 to 45 seconds continuously with vinegar. After that, massage your palms together as well as combine your fingers.
When you fully rub your hands together, you can remove them under a running faucet.
Afterward, you can wash your hands with any soap till the vinegar smell is gone, then use a towel to dry your hands.
If you're anxious that the gas scent may remain, feel sure that it will not. As soon as you dry your hands, the smell will go away instantly.
Try Vanilla Extract
Do you know that Vanilla Extract can also help to remove the gasoline smell from your hands? Yes, it is a very effective tip that can be successfully used to eliminate any smell.
How to use:
Take some drops of vanilla essence in a half cup of water; however, you can add more drops if you don't feel the smell of vanilla extract.
Pour the mixture into your hand and start to rub the hands together. Massage it well for 30 to 60 sec continuously.
You can stop if you feel that the smell has gone. When the smell of gasoline has been removed from your hands, wash your hands with the soap under the running faucet.
Then dry it with a towel, but don't scrub it because it removes the fragrance of vanilla extract.
Mixture Of Salt And Detergent
Another effective solution to get rid of the gasoline smell from your hands is the mixture of salt and detergent. Do you know that salt contains odor-removing properties, whereas detergent has the capability to break down chemical bonds? When we mix them together, it becomes a very effective solution to remove the smell and dirt from your hands.
How to use
Take 1 to 2 teaspoons of salt in a cup, and then add 1 to 2 teaspoons of salt in it. However, the salt will help to exfoliate and reduce the odor of gasoline.
Pour your hands with the mixture till your hands are covered with dish detergent. Then start rubbing your hands and palms together.
Now, you don't need any other soap or detergent anymore. Just wash your hands under the running water.
Use Lemon Juice to Wash Your Hands
Lemons contain citric acid, which can help to remove the smell of gasoline. Moreover, the lemon fragrance is nice, so there's no need to worry about it staying on your hands.
How to use
Take a cup, and combine lemon juice and water equally, then mix it well.
Soak your hands with the lemon juice mixture for at least one minute, then rub the mixture into your hands and fingertips.
After that, you can wash your hands with simple water or with soap as you like.
Use Paste of Baking Soda
As everyone knows that Baking soda has excellent odor control effects that can be used to get rid of gasoline odor. However, it can't harm your skin.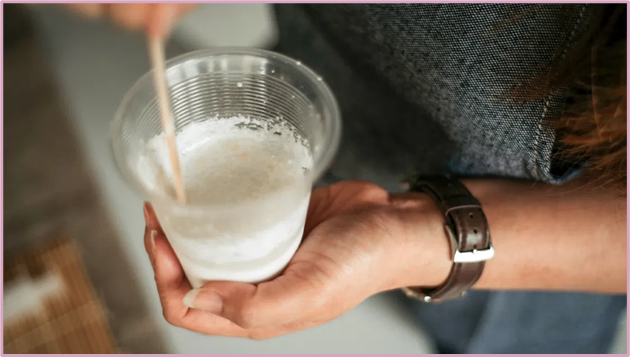 How to use
Take a bowl or cup, and put some quantity of baking soda with some water to make a paste of baking soda and mix it well and apply it on your hands.
After that, rub it for 1 to 2 minutes and simply repeat this procedure several times, then wash it with soap and water, and you will see the result after washing it.
You can use any of the above about how to get gas smell off hands. . And share in the comment box which method is suitable for you.
Also Read:
How Big Is A Queen Size Air Mattress: A Complete Guide