The last couple of years have been rough on everyone, time spent apart has strained relationships, and life has not been as fun and enjoyable as it could have been. Vacations and quality times with loved ones have been sacrificed and compromised. Now that you are getting through those tough times, you have realized just how important and valuable your time is. Sharing your time with your loved ones, having awesome vacations, and making memories are important. So, where do you start planning an awesome and fantastic vacation, and what does it need to include? What resorts can you visit to make the most of your free time, and how can you have the best vacation possible? Do you want to look close to home, or do you want to visit somewhere completely new?
Exploring the Mountains and Woods in Missouri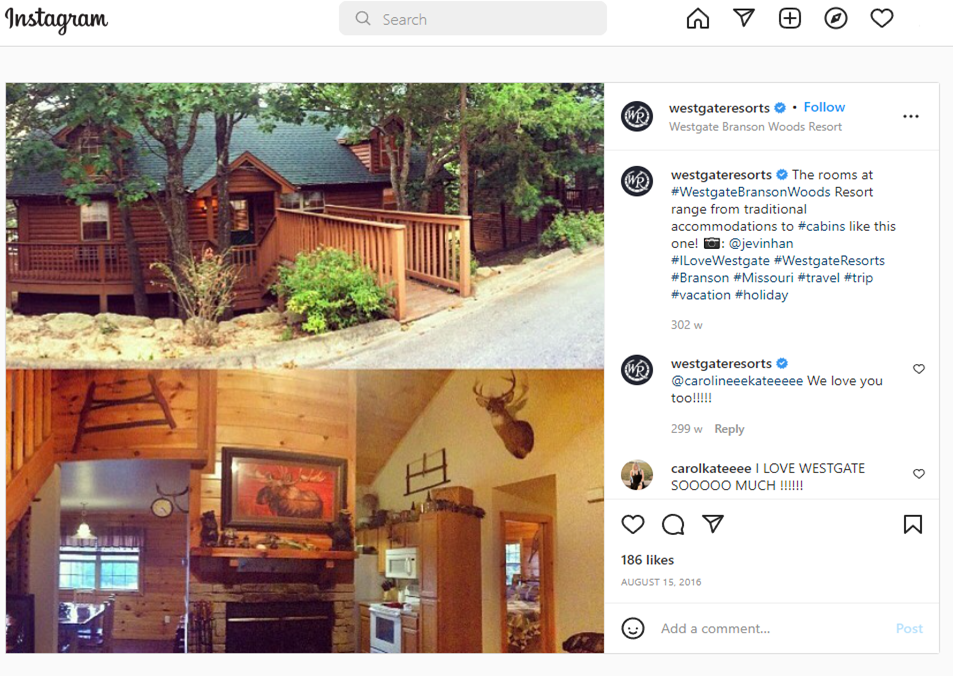 1. Westgate Resorts Branson Woods, Missouri
"Explore the woods and mountains at your own pace and reconnect with nature."
If you are looking to do more than lie around on a beach all day, or if you want to get reconnected with nature, then you need to head to the Ozark Mountains. Here, in this beautiful mountain range, you will find this resort in Branson, which gives you the opportunity to take in all of the beauty that nature has to offer – especially as it is nestled in 145 acres of wooded beauty. This full-service resort allows you to feel like you are at home from the moment you check in. If you want to give yourself a break from cooking and kitchen duties, then you can indulge in dishes and snacks from the Draft Sports Grill. You will find beautifully decorated rooms that feel homely and give you the perfect base to explore from. If you fancy getting even closer to nature at this resort, then why not stay in one of the beautiful cabins located on-site. Snuggle up after a day of hiking in front of a real roaring fire, or take in the views from your deck.
Beautiful Lake Views on Offer in Pennsylvania
2. Woodloch Resorts, Northern Pocono Mountains.
"Take in the Lake views and activities with all of your family."
If you are looking at a packed family adventure that has something for everyone, then you need to visit the Woodloch resorts in Pennsylvania, which offer a wide variety of activities for all. From waterskiing on a beautiful and majestic lake to playing golf on an immaculate green all the way through to indoor pool activities with fun water slides – this place has so much to offer. It is an ideal getaway for any time of the year, and it also sits within the Northern Pocono Mountains, which guarantees you will wake up to a beautiful sight every day no matter where your room is located. When you are choosing your accommodation, you can choose to stay in the Woodloch lodge in a suite, or you could look at staying in Woodloch springs which is just a couple of miles away from the main resort and amenities.
Soak up the Beach in Florida
3. Acqualina Resort and Residences

"The adults-only pool is tranquil."
This spa and resort sits on 4.5 acres and is located on the beach in Florida. It has on-site kayak and Jet Ski rentals, in addition to eateries and boutiques, so there is sure to be something for everyone at your party. Even though this resort is located next to the beach, you will find it is only 10 minutes away from the beautiful shops, boutiques, and restaurants in Bal Harbor that are there for you to explore. Bal Harbor is perfect for when you fancy a little retail therapy. The resort offers three swimming pools, and with one being an adults-only pool, you should be able to snatch a few minutes away from the kids (should you wish to). If you are looking to treat yourself, you will be able to in the on-site spa, which offers treatments including Cryotherapy, Aromatherapy, Ayurveda, and Reflexology.
A Majestic Ski Resort That Is Straight Off a Postcard
4. Fairmont Chateau Whistler
"Stay in a picture-perfect chateau and take in the beautiful scenery."
If you are looking to get away and have some time in a spa, or skiing in Whistler, then this is the perfect place to stay. Excellent service, together with beautiful scenery and surroundings, will make this trip a vacation to remember for many years to come. If you fancy doing something other than skiing and relaxing in the spa, then you can head indulge in some retail therapy in the hotel's shops and boutiques. Or, you can take a guided tour or experience. There are a lot of on-site and off-site activities for guests of all ages, so you will find your stay will be action-packed. When you stay overnight, you can choose to stay in a guestroom or in a suite. All accommodation and facilities are finished to a high standard, and you won't be disappointed.
Action Packed Days in West Virginia

5. The Greenbrier, White Sulphur Springs

"Keep every family member entertained."

If you want a vacation that is full-on and pretty much non-stop from the get-go, then you need to head to the Greenbrier. This resort is full of activities to suit all types of interests and likes. From an aerial adventure tour to a canopy tour or bike ride, you will have no trouble filling your afternoons or days. This large hotel and resort have amenities that all family members will enjoy, and it offers signature rooms or estate homes to suit most price points. All of the rooms, suites, and estate homes at this hotel and resort are tastefully decorated and in keeping with the age and history of the location. If you want to make memories by doing something different each day, then you need to head to White Sulphur Springs in West Virginia.
History and Golf Collide for a Relaxing Retreat
6. Grand Hotel Resort and Spa, Alabama
"A golf-lovers paradise"
If you enjoy spending time putting or playing on a green, then this resort and hotel may well just be ideal for you and your vacation. This historic hotel located in Alabama is great for those guests wishing to brush up on their golfing skills and ability. However, if you are not overly keen on playing golf every waking moment, then fear not because the hotel and resort also have other amenities and facilities on offer, such as its spa, tennis courts, or other activities that could see you hiring a bike for the day, or perhaps even making use of the indoor or outdoor pools.
Revitalize Your Body and Mind on Vacation
7. Grand Canyon, Lennox, Massachusetts
"Time to focus on yourself and your well-being"
What does a fantastic vacation look like to you? Does it look like hours of activities and pushing your body to the limit? Or does it look like days filled with pampering, wellness, and rejuvenation? At Canyon Ranch, you get the opportunity to focus on yourself, your body, mind, and wellness. Reconnecting with yourself and focusing on your wellness is important, and you can do this with a stay of any length. There are four locations you can choose from. The Lenox location in Massachusetts will allow you to both recharge and relax in comfortable and nature-inspired surroundings. Whether you have five days for your vacation or you have two weeks to indulge and enjoy, you will benefit from having time to yourself.
Checking Out Reviews and Booking
To make sure that you get the right location for you and your vacation, you need to take the time to research the options that work for you. Reading reviews from past guests and thinking about what you want to get out of your stay is important. If you do not think about what you want before booking, you may end up second-guessing your choice. For example, the large resorts may seem appealing at first; however, would a cabin in the woods allow you to spend more family-focused time? Once you have checked out reviews and thought about what you want and need from a vacation, you need to go ahead and book. Waiting around too long to make a booking could see you struggle to get the dates or availability that you want, and of course, this is not what you want, especially when you have been waiting for this vacation for such a long time!