"Keyword" is the King of the internet world as the entire search results are based on it.
Are you trying to do content writing or make a WordPress blog? Or do you want to know how to use keywords in content writing and WordPress? Then this is the right place for you!
The keywords are essential because they tell search engines about the content of your blog or website.
To start with, you must be familiar with the definition of "Keyword." To search anything in the search engine, people enter some words or phrases. Those specific words or phrases are simply called keywords.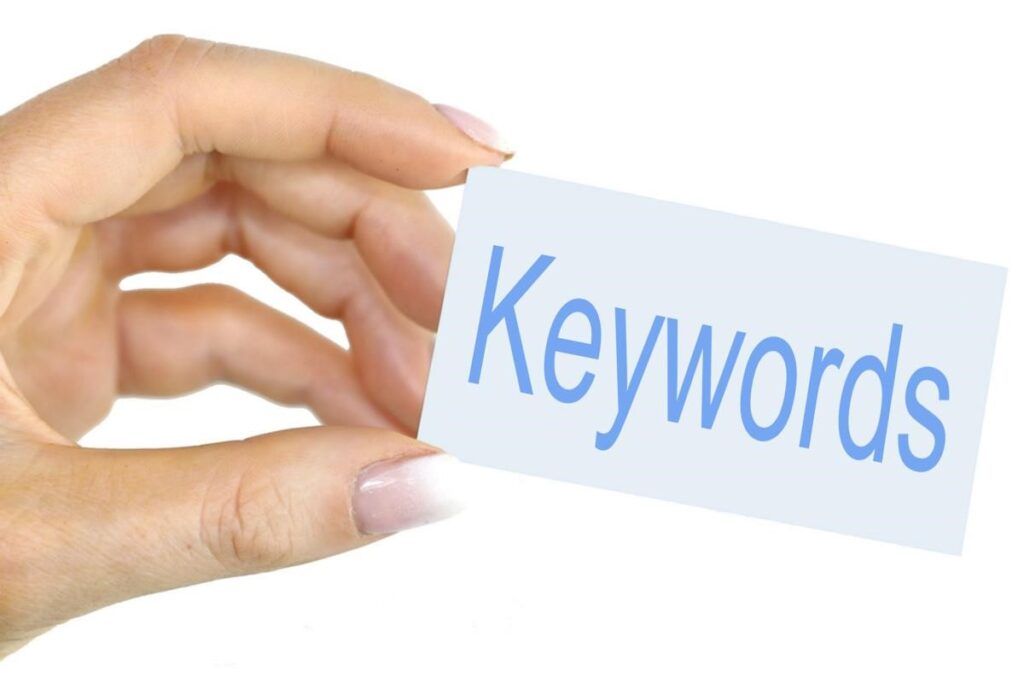 It makes sense that search engines record those search terms and phrases and prioritize the top-searched keywords!
To know about the entire game of KEYWORDS and to know how to use keywords in content writing and WordPress, you must get the concept of "SEO content" first.
So what is SEO Content?
If you are thinking to start your blog, then you should focus on SEO content only rather than ordinary content. The only difference between SEO content and ordinary content is the usage of keywords. SEO content basically aims at ranking the blog in search engines, for example, Google, Yahoo, Bing, etc.
In simple words, SEO content is optimized around some specific keywords. For example, I targeted "how to use keywords in content writing and WordPress" in this blog, so this was my keyword. My entire blog will revolve around this keyword, and you will gain deep knowledge about this topic.
If you have written SEO content, appropriately and smartly used keywords in your blog, then search engines cannot ignore it at any cost, and they will bring your blog in top searches.
SEO Content Writing- Some Important Things
Now the thing is, how to write SEO content? We will discuss this topic step by step so as to keep things simple for you to absorb.
Select A Topic For Your Content
The very initial step in this regard is to select a topic for your content. While choosing a topic, you must know who is going to your target audience, their preferences, and their points of interest?
If your target audience is the group of people looking for ladies' winter clothes 2021, then your topic for SEO content should be "Ladies winter clothes 2021".
A great idea to choose a topic for your content is to look at what your competitors are doing. Go through their popular blog posts ranking in top search results and then come up with a similar idea.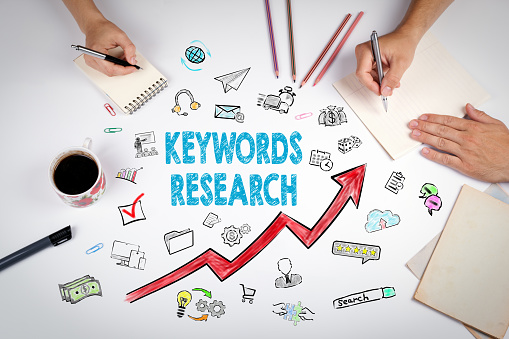 2keyword strategies: rankings and traffic
1. Sniper strategy (positions)
The essence of the approach is precise focusing. You select a small number of high-frequency, but low-competitive keywords (for your niche) and bring the site to the TOP for them. This requires a lot of effort and time, but in the long term it gives a good result: by taking advantageous positions on popular queries, you will surely receive a good influx of visitors.
2. Shotgun strategy (traffic)
In this case, a wide pool of requests is selected, but they are not worked out as carefully. That is, the site is promoted by groups of keywords based on the subject of your site, and the user receives not only highly targeted information but also articles around the subject. This is convenient for a business with a large assortment of goods and services when it is difficult to get by with a couple of dozen requests.
As a result, you have a choice: to move by position or by traffic.
Which option to choose
For a long time, everyone moved up positions. Companies fought a bitter battle to get into the TOP 10 for a specific keyword. It becomes more and more difficult to do this every year. Search suggestions, features of regional and personalized search results, and other factors make adjustments to the search results for the same query. Therefore, over the past few years, more and more companies are betting on traffic promotion in order to get more user reach and less reliance on algorithm changes.
Now, for maximum effect, the best option is to combine the two methods. First, we work through the entire site for a large pool of requests, and then we deal with priority requests individually.
Keyword Research – The Backbone Of Seo Content
Now when you have chosen a topic for your content, the next step is to do keywords research. Basically, this is the step from where you get the direction, either right or wrong. If you have researched your keywords effectively and appropriately, then your blog will definitely appear in top searches, but on the other hand, if your keywords research was not effective, then your entire efforts will be wasted.
Hence, be very careful while choosing keywords for your content. There are many different tools and ways to do keyword research, and that is a separate topic to discuss. Most importantly, search suggestions that Google gives you while searching for the topic are the best keywords to focus on.
These Google suggestions are called long-tail keywords. These long-tail keywords give you an idea of what people are searching for on the search engine.
There is a keyword research tool offered by Google that is free to use. Beginners prefer to use this tool as keywords research for content writing and WordPress. Keywords with high searches and low or medium competition are usually preferred.
Important: Keywords that you will search and choose must be relevant to the topic of your content.
The Best And Top Trending Tools For Keywords Research
I have already mentioned that keyword research is the most important phase, and if you have performed this step perfectly then, your blog will become successful. On the flip side, if keyword research is not proper and you have unfortunately chosen irrelevant keywords, then your blog will neither grab the attention of users nor the search engines.
Here in this section, we will discuss the top 10 trending keywords search tools that are the following:
SEM Rush
In SEM Rush, you can easily Discover the organic as well as advertising value of any keyword based on the keyword difficulty, competition level, search volume, SERP features, number of results, variations and CPC.
SEM Rush is a premium tool that you can purchase, and it will not only help in keyword research but in the SEO of your blog as well.
KW Finder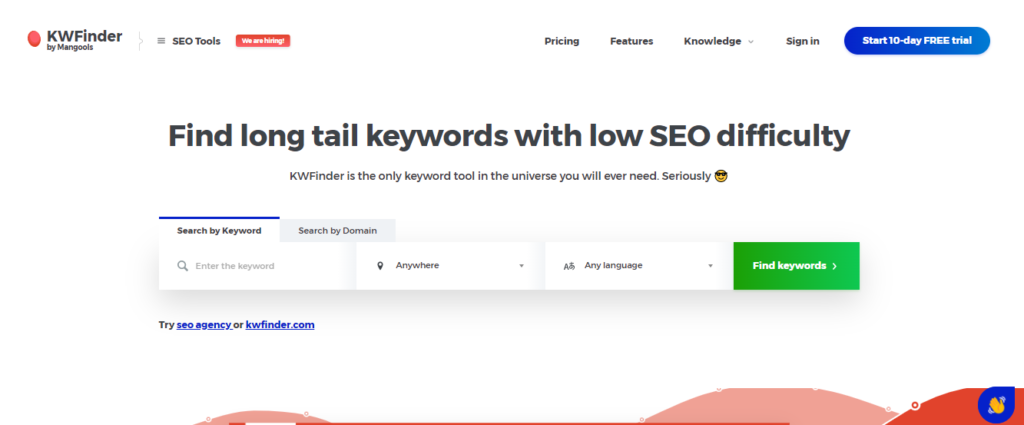 As the name suggests, it is a Keyword finder software. With just a little SEO difficulty, you can easily find long-tail keywords through this software. If you are a beginner, then KW Finder will be very helpful for you because it is simple to use.
This is also a premium software that you can use freely just for 10 days, and then you will be charged for it.
Ahrefs Keyword explorer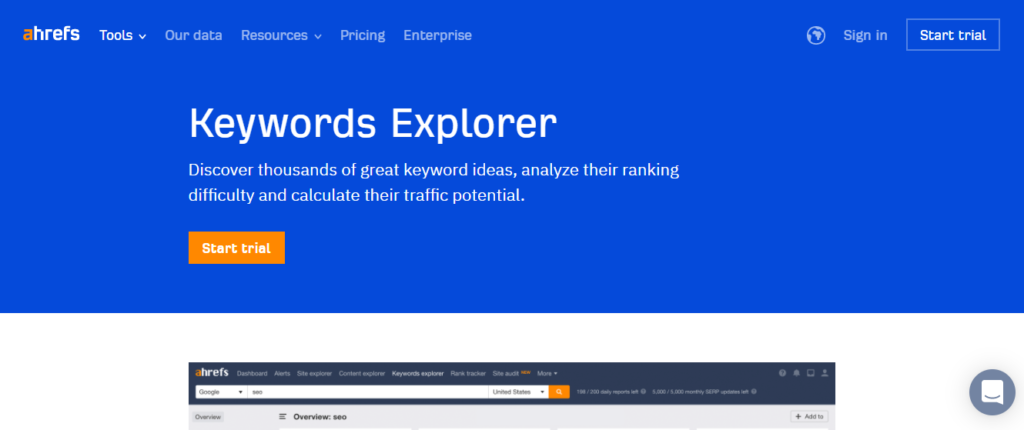 Another way to find keywords for your blog or WordPress is to use Ahrefs Keyword Explorer. This is an easy-to-use platform where you can Discover thousands of effective keyword ideas, calculate their traffic potential and analyze their ranking difficulty within no time at all.
This is a highly professional platform, so it is a premium tool.
Google keyword planner
Almost every beginner starts keyword research with this tool. Google has provided its own keyword research tool that is totally free to use. Beginners use this tool to learn and practice the entire procedure of Keyword research.
Growth Bar SEO
Out of all the keyword research tools, one of the latest ones is Growth Bar SEO. Although it is not as much famous as SEM Rush and Ahrefs but the good thing about Growth Bar SEO is that it is cheaper as compared to those tools.
If you are a beginner, then you can start with this tool.
Long-tail Pro
Long-tail Pro is and another keywords research tool that can help you to shortlist the trending long-tail keywords for your website or blog. Not only is this tool effective for keywords research but for other SEO tasks as well.
For your information, it is also a premium tool for SEO.
Majestic
There are three versions of the Majestic tool that are Lite, Pro, and API. The three versions differ in terms of prices as well as features. You can browse all three categories and choose the one that suits you the best. Majestic is also a highly recommended tool for keywords research.
Keyword tool
Although this app has a very simple name but it can work like wonders for your blog. It is very simple to use, and you can shortlist the top trending keywords for your blog or website through this tool.
This tool is totally free to use, and without paying any money, you can find out the best keywords for your blog.
Serpstat
Serpstat is a very comprehensive tool that is effective not only for keyword research but for other steps of SEO as well. Beginners will be very happy to know that this is a totally free tool. You can analyze the performance of any website, for example, of your competitors in this tool for free.
MOZ Keyword Explorer
Another keyword exploring tool that is highly professional and highly recommended is MOZ keyword explorer. This is a premium tool, but its features are really amazing for the sake of SEO.
Even if you don't know anything about how to use keywords for your content or WordPress anyone you don't know how to research keywords then nothing to get worried about! All the tools that I have mentioned are Highly Effective and authentic. With little or no brainstorming, you can find demanding keywords for your blogs.
You're Ready To Start Writing Seo Content
After finalizing the keyword research, you are ready to start writing SEO content for your blog. It should be comprehensive, informative, and engaging. Keep in your mind that keywords can help to bring the traffic, but in order to retain the traffic, your blog must be compelling.
Some people just stuff their articles with keywords but do not add any value or information, and that leads to the failure of the blog. It is because of the reason that the bounce rate will increase. Bounce rate means the traffic will not spend a good time on your WordPress site, but they will immediately return back if they do not find anything interested.
People are interested in exploring the knowledge and not in Exploring which keywords you have focused on.
Keywords are just too impressive search Engines, and the quality of content is basically to impress and retain your traffic so you should focus on both aspects.
How to Use Keywords in Content Writing and WordPress?
The most important question starts from here because many people don't know how to use keywords in content writing and WordPress effectively and appropriately. Search engines have specific criteria to rank your content and to rank your keywords and, in this section, we will discuss that particular criterion.
Add The Focused Keyword In The Seo Title Tag
The SEO title tag is also known as a meta title tag. It is the snippet of text that describes the content of the page. Meta title does not appear on the page itself, but it only appears in the search engine results. The image below is the perfect example of what is SEO meta title tag.
When it comes to the character limit of the meta title tag, you can add up to 50 to 60 characters to it. Hence, these limited characters should be written smartly and wisely so as to optimize you are blog to the best extent. SEO experts suggest using the focused keyword at the beginning of your meta title tag. This will be helpful for search engines to get information about your blog and to rank it.
It is better to use the primary keyword as well as the company name in your meta title tag.
The Keyword Must Be There In The Meta Description
If you are a beginner, then you must be familiar with what is a meta description? Whenever you search anything in Google or any other search engine, different results appear on the screen, as you can see in the image below:
The content that is written under the blue text bar is called a meta description of that specific blog. The meta description is an HTML element that summarises or describes the page content in just a few words. In this way, the user gets an idea of what information we can obtain from that specific blog.
It means that the meta description is the presentation of your entire blog. If it is attractive and well written, then the user will open the link and read your blog.
Now, when you know what meta description is, you should also be informed that it is really important to use the primary keyword in the meta description of your blog. If you use the keyword in the meta description, then Google and other search engines will easily and quickly filter your result.
You cannot use the primary keyword in the meta description, but if it makes unnatural sense, you can add a relevant keyword.
Keep in your mind that meta description has a limit of 160 characters or 20 to 25 words. If you will overstuff the meta description with keywords only and will not summarize anything about the blog, how will the users be able to get an idea about your blog? Ultimately, they will not open the link of your blog, and your efforts will go to waste.
Hence, there should be a balance between the keyword and the other content while writing the meta description of your blog.
A Focused Keyword Should Appear In The First 100 Words
This time, you should use your focused keyword in the first paragraph of your blog. Once you have added in the title, and then you have added your keyword first 100 words. Hence, the search engine will start getting an idea from here that what your blog is about. This technique is formerly known as "keyword prominence," and all the top bloggers use this technique in their blogs.
It is important to follow the sequence of h headings  (h1 is the main heading, h2 and h3 are subheadings). There should only be one H1. Write short informational headlines.
The h1 header should convey the main theme of the page: after reading it, the user should understand where he is. Most often, the main part of the h1 header contains a high-frequency request that is promoted on this page, for example, a product/service category, model name, etc.
Headings h2, h3, etc., help to reveal the topic of the page, structure information, and draw the reader's attention to the features of the goods or services that you offer. They are also important for promotion, so it is advisable to fill them not only with meaning but also, if possible, with keywords.
Add Keywords In Hyper Text Links
Hypertext links are those links that are clickable and that take the reader to another page. You can use a Keyword in anchor text link with your content. It makes sense that users can find additional information regarding the primary keyword in the specific link.
Try to link the content with the most relevant article of your blog. It is also a way to give an internal link or inbound link to your blog.
Use Keyword In The Rest Of The Content
Using the focused keyword in the title and first hundred words is compulsory, using in H1, H2, and H3 tags are recommended, and using it appropriately and naturally, and the rest of the content is also important. When you use your keyword frequently in your content, the search engines will get a clear idea about what you are talking about. Hence, the search engines will be able to bring relevant traffic to your blog.
Use the keywords in the last hundred words
Just like the first hundred words are important from the SEO perspective, the same is the case with the last hundred words of your blog. The conclusion of the article is of great interest to search engines because the conclusion basically summarises the entire piece of content. Therefore, when search engines conclude your article, they must find the primary keyword in that section.
Apart from the primary keyword, you can also use the secondary keyword or additional keywords in the conclusion of your article. If it is not possible to naturally adjust the focused keyword in the last hundred words or in the last paragraph there, it must at least appear in the second last paragraph of the article.
Add The Keyword In Image Alt Tag
You are not only supposed to optimize the content of your blog but also the images that you are going to add to that piece of content. You should optimize images for exactly the same keywords as the content. If you are a beginner, then you must know that there is great importance to using images in your content. These images should be relevant to the content as well.
Images are useful to increase the engagement level of the users within your blog. Now the question is how to optimize the images of the blog? When you add images to your blog, you find an option of writing its image alt tags. This is where you have to enter your keywords.
If you have added a primary or a relevant keyword in image alt tags, it will increase their visibility in the images of search engines.
Ultimately, it will be another plus point for the ranking of your blog.
Use Relevant Keywords As Well
Using a focused keyword is just one thing, but you should also cover those keywords in your blog that are very much relevant to the focused keyword. This practice will make a cluster of relevant keywords, and it will be helpful for search engines to know about your blog. The better the search engines will know about your blog, the more traffic you will get, and this is what you will be putting in all your efforts.
Add The Keyword In Url
You have written a detailed article, you have optimized it appropriately by adding suitable keywords, you have even added he was in all the areas that I have mentioned in this article so far. However, you have missed entering the keyword in the URL! We can say that the URL is the mirror of the article title.
It is extremely very important to add the primary keyword to the URL of the blog. SEO experts suggest that the URL of the blog should be precise and accurate. Accuracy means that it should match with the article title, and accuracy also means that the primary keyword must be there in the URL.
Keyword density- Not-to-forget thing
If you are searching about how to use keywords in content writing in WordPress, then one of the most important things that you should not miss is keyword density. Keyword density means how many times you can use a Keyword in your blog. If there is overstuffing of keywords, it will not look natural, and it will affect your blog's readability. Moreover, it will give a navigator impact to the search engines.
On the flip side, if you do not use keywords enough Times, then the chances of appearing in search results will decrease, and you will lose a lot of traffic.
So the question is, how many times should you use a Keyword in your blog?
The keyword density basically tells how often a search term appears in the content in relation to the total number of words it contains. Most SEO experts believe that a keyword density between 1 to 2% is ideal. It means that you can use the focus keyword once or twice in every hundred words.
How many keywords can you use in one blog?
Of course, there would only be a single focus keyword that you will use in the first hundred words of your content, in the title, meta description, and in other such important areas. However, it is also important for you to know that you can optimize the content of the same blog for some other relevant keywords.
When you are doing Keyword research, you should adopt brainstorming techniques and other smart approaches to shortlist the most relevant and demanding keywords.
Top SEO experts suggest that you can optimize the content of a single blog for as many as 5 to 10 keywords.
So the important tip in this regard is that you should note down the 10 most demanding keywords closely related to the focused keyword. Of course, it is not necessary to use all those keywords in the blog, but you can try to use them in your content where they make any sense and do not affect the natural tone of the content.
What types of keywords are there? For your knowledge, there are three basic types of keywords when it comes to SEO, and these are the following:
Primary keywords
By the term " primary keywords", we mean the focused keyword or the main keyword of the content. Your entire blog will be circulating around the focus keyword as you will be using the primary keyword in title, meta title, meta description, and other such important areas.
Almost all the blogs have only one primary keyword in the entire article. It is the reason that it is impossible to handle primary keywords side by side in the same blog. For example, in the meta title of the article, you can only add one keyword because there is a character limit.
Secondary keywords
When it comes to secondary keywords, these are complementary to the primary keyword. In short, secondary keywords have minor variations from the primary keyword.
Additional keywords
Additional keywords are all other keywords that are relevant to the primary and secondary keywords. Additional keywords have the same meaning as primary or secondary keywords but have different spellings, or these are phrased differently. The long-tail keywords are considered as additional keywords usually.
Now let's summarise the information about how many keywords to use in one piece of SEO content? Well, there should be one primary keyword, 2 to 4 secondary keywords, and 2 to 4 additional keywords.
This cluster of keywords will improve the chances of your blog's ranking.
What if you use more and more keywords?
If keywords are the key to ranking your blog, you might be thinking, why not use more keywords in the same piece of content? Well, that practice will not bring any good results for your blog, but it can have a negative impact. Search engines are intelligent. If you are writing a blog of just 500 words and targeting over 10 keywords in it, then it will just be an insane practice and search engines consider it spam.
If your blog consists of over 5000 words, then it makes sense that you can optimize up to 10 relevant keywords in that single blog.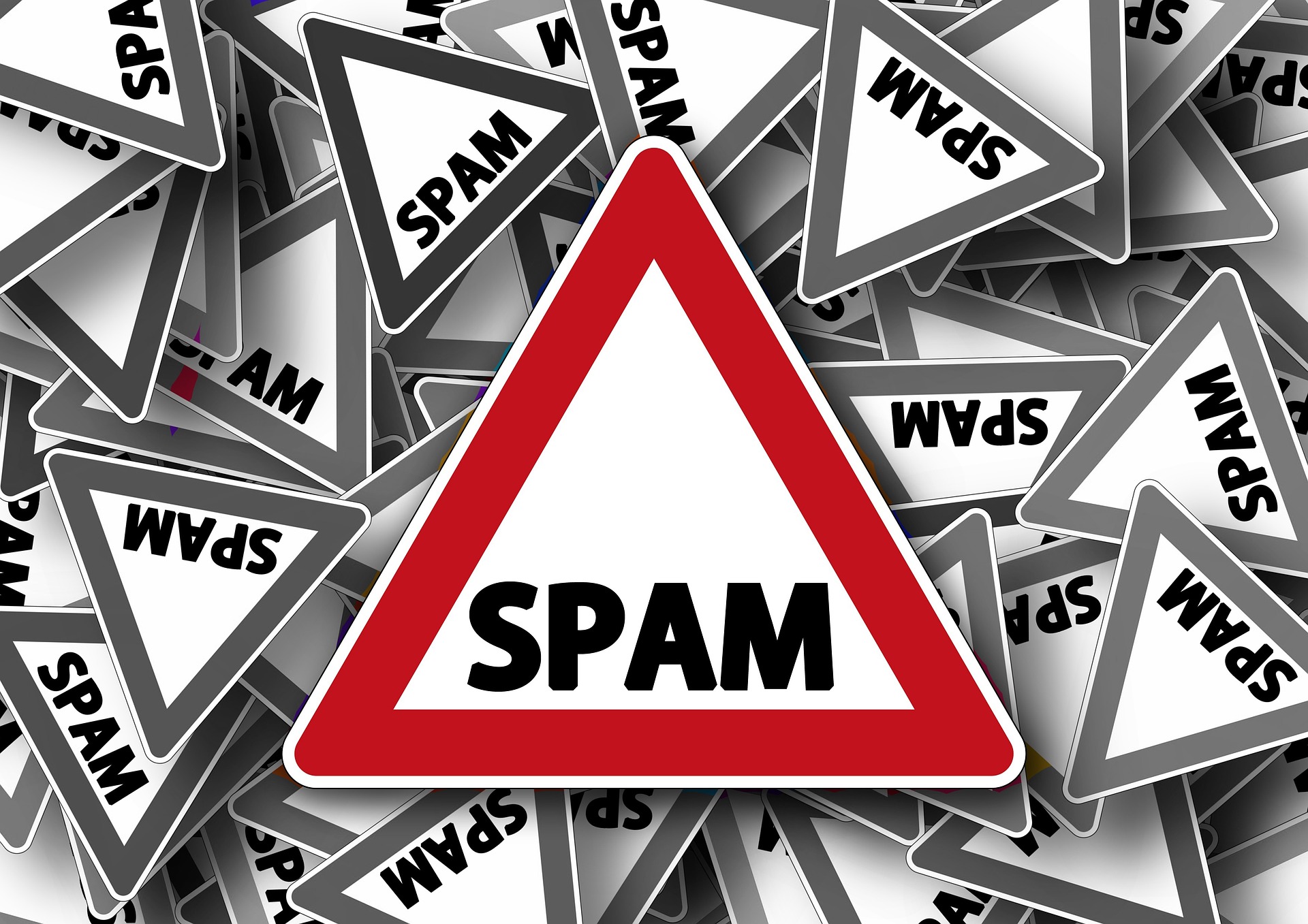 Another problem with using more keywords in the same blog is that it affects the natural structure of the content, and ultimately it may affect the readability score. Readability is one of the most important factors that search engines use to rank a blog.
Long story short, the ideal thing is that you should shortlist 6 to 8 keywords, use them naturally in your blog and try to optimize for those keywords only.
Keep A balance between Keyword Density and Natural Tone
1 to 2% is the keyword density, but it does not mean that you should before putting it in every hundred words. If you think that the keyword is adjusting appropriately and is not affecting the natural tone of the content, you can certainly add it. However, if there is no sense in adjusting the specific keyword and if it is not relevant to the specific paragraph or the specific discussion being made, there is no need to break the natural tone and add the keyword in your content.
Conclusion
Now you have come to know how to use keywords in your content and WordPress. If you will use keywords in your content then it means that you are doing SEO content writing. You should appropriately and smartly optimize the content of your blog. There are trillions of blogs and websites but only those appear in top search results that are effectively optimizing their content for the specific keywords. Therefore be very smart while choosing the topic of your content, researching the keywords, writing the blog and using the keywords in your blog.
Also Read:
9 Best Supplier Relationship Management Examples
8 Amazing Benefits Of Using a Staffing Agency to Find a Job
Source-To-Pay Vs Procure To-Pay: A Comparative Analysis
How To See Someone Else's Likes On Instagram
Netflix Errors And How To Fix Them Immediately